OK then, here we go (clicky for biggy) ...
(A) Printing and Sticking - Printouts Onto Card
(1) A stack of
printouts
(on cheap,
Tesco, 75 gsm, copier paper
), glued (
Pritt Stick
), onto 110 lbs/220 gsm smooth surface cartridge paper (i.e. our 'card' - although, almost any medium paper/card, around this '
grammage
', is fine).
I am more than happy with the print quality, on this paper, but, you may wish to try more expensive, specialist, inkjet/extra-white versions.
The whole process can be seen in the video (
and more text, to follow
),
(2) Our first subject - a 6"x6" 'floor tile' printout, on paper, on card,
(3) Our second subject - a 3"x6" 'floor tile' printout, on paper, on card,
(4) A 'mounting template' printout, on paper, on 0.25"/5 mm
foamcore
('
display board
'),
(5) A 'LinX tabs' printout, on paper, on 0.25"/5 mm
foamcore
('
display board
').
Seems a bit complicated?
Nope
, plenty of WWG assistance available to help us ...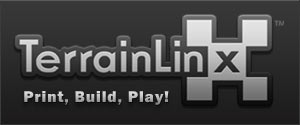 WWG TerrainLinX (TLX) Overview
WWG TerrainLinX (TLX) Overview Video
WWG FREE TerrainLinX (TLX) Instructions Download
(zip)
WWG TLX Forum Category
WWG PaperCraft Guide & Materials
WWG Videos: Methods & Materials
WWG FREE Beginners Guide to Cardstock Modeling Download
(zip)
WWG Forum Papercrafter Tips Category
WWG Forum
The Definitive Glue Thread
, at
WWG
, collects the thoughts of many modellers and is recommended reading.
Of course, we do not need to go through the process of the TLX system, if we do not wish to ...
the art work could be applied, permanently, to boards
, etc, of the desired size (i.e. 'Speedmounting'). For this project, we will do it 'properly', so as to see what we may learn.
By-the-way, one reason why the time is ripe, is that my 'trusty'
HP Deskjet F2180
gave up the ghost (more stepper motors and bits ;) ), so, I went and did what I always do. I opted for the cheapest 'name' '3-in-1' inkjet I could find, and, thanks to the wireless craze now being in full swing, I managed to get a nice
Canon Pixma MP280
for £30.
Long-ago, I cracked how to refill these inkjets, and I do not really worry about ink costs. The provided reservoirs have only a small amount of ink, so, I was eager to see how the Canon would perform with my cheap refill inks, in comparison to the stock ink. Thus, I had to empty it - and I did !!!. I refilled it with my cheapo inks and all remains well in print quality -
BUT
.
Top Tip: learn how to refill your inkjet.
Some modellers like to print, directly, onto the cardstock, where their printer allows it. Personally, although it is a little more work, I prefer to use the method, above.
There are some reports, that laser, colour, printers, can sometimes create printouts that will crack and peel, when scoring and bending the cardstock. If you intend to try this method, check that your printing system avoids this problem.