Too old for promotion ... Too young to stop ... Too obsessed to finish anything* ................... *unless you like it
Tuesday, 6 September 2011
I had a lovely reply from Dave via Mike and have permission to post their thoughts ...
"
Wow. You're either very brave or insane :)
(I really cannot say which, CS)
I've asked Dave about this and he essentially thinks you should go with whatever you see. However I've laid out some of this thoughts for you below, but obviously it's been a while....

There's a picture of the half-formed ship shrouded in mist on the sleeve's first page at the bottom, where you see from the back the mast and part of a wing. Remember the ship is organic and the windows (the details on the front of the ship above the dragon-type figurehead) are lit by spirits and so should be luminous and glowing. Dave described the ship as sort of based on a Spanish galleon with a high prow crossed with a Japanese fighting fish baring down on the viewer.

Hope these thoughts help and we wish you the best of luck in your project. Mike "
Thank you gents, wonderful ... so, off I went to see what I had missed on the sleeve, and, low-and-behold, there it was ...
Look at the size of that mast and fins !!! Super.
So, we need an organic, Spanish galleon ...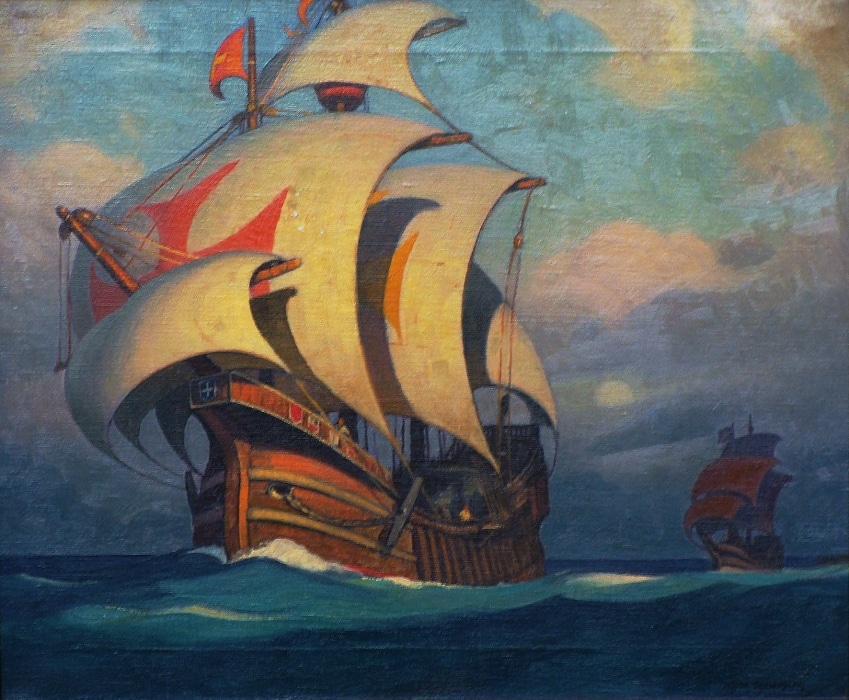 With a high prow ...
Looking like a Japanese fighting fish ...
In brown, please :)
Got it.
Posted by

Colonel Shofer
at 7:51 pm
0 comments